Lapidart® Faceting Machine with industrial bench and accessories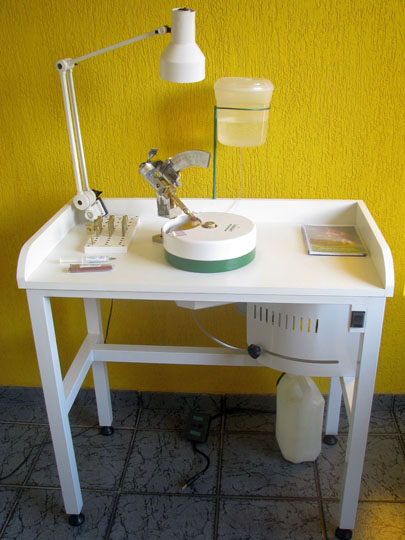 1 – Industrial bench with digital speed controler (500 RPM to 3.750 RPM) NOT SHOWN IN THIS PICTURE.

1 – Faceting head: stainless steel protractor graduated from 0 to 90 degrees with .5 divisions and vernier with 0.05 degrees markings; 3/4' stainless steel mast fixed in a 360 degrees rotating base with table knob locker (no tool required to adjust the knob locker: just use a special dop that follows the equipment!); pivoting faceting pen with stainless steel axis and sealed bearings; quick dops setting with an easy and safe plug-in dop device with a built-in steel pin-guide; self-locking 96 index graduated in three colors for an easy faceting division; precise graduated cheater with internal sealed bearing; micrometer on the top of the mast with 1 mm pass; spring and locking ring on the mast.

2 – Industrial bench: built in white painted steel and top made of white wood MDF with digital speed controller (no belts, no pulleys). Size: 80 cm x 50 cm x 75 cm.

Obs.: We have also a portable model for export.

3 – Dops: Kit of 12 aluminum dops (04 V, 04 flats, 04 conics), with a dops-support numbered both in mm and inches (complete kit from 2mm to 1' with 36 dops is available – please ask for price).

4 – Lamp: Architect style with pressure claws fixation, for halogen 15w lamp (not included).

5 – Cooling system: Plastic tank with a steel support and a needle drop microregister and flexible hose.

6 – Pipe: For table polishing.

7 – Wax: Used to fix the gems on the dops, the Lapidart wax has high viscosity and avoids the stone comes unfastened during the stone cutting. Its exclusive stick shape facilitates the collage on the dop and avoids wastes.

9 - Diamond paste: 14.000 mesh in a 5 ml syringe. Clean work and bright polishing.

10 –Faceting lap: 1.000 grid fixed on an extra light aluminum base. Many others gradings are available.

11 – Polishing resin lap: 140 mm diameter x 10 mm of thickness.
It needs only water for polishing. Best results than any other material for berils and some other gems, avoids scratches, mirrored polishing. It's appropriate to almost any kind of gems (from hardness 5 to 8), from quartz to emeralds, and even glass. It's set over the faceting lap.

12 – Faceting handbook: The step-by-step of cutting and polishing, illustrated with pictures, drawings and diagrams of a standard round brilliant cut ((in Portuguese. It will be translated soon).


Lapidart Fornitura e Showroom:Rua João Gualberto Filho, 1402, Bairro Sagrada Família, Belo Horizonte, MG, CEP 31035-570.