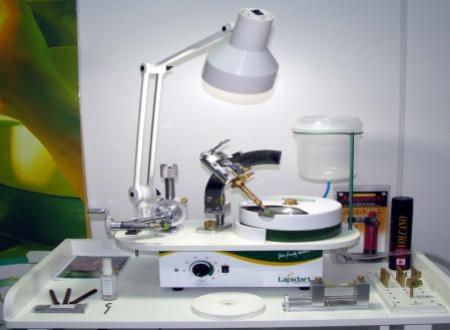 Lapidart has developed a very easy and friendly faceting machine, that has been exported to many countries (especially South America and Africa) for professional cutters, schools and factories.
This 3x1 Kit has a portable bench with a powerful 1/2 HP motor and a built-in speed controller (0-3.500 RPM); 01 faceting head with a 96 index + 01 calibrating head + 10 cams + 01 transfer block + 01 faceting lap G 1000; 01 polishing tin lap + 3 sticks of wax + 01 diamond paste or diamond spray + 01 polishing pipe + 01 lamp.
We also have a very heavy duty machine line for industries. Send us an e-mail for further information: lapidart@lapidart.com.br
Lapidart Fornitura e Showroom:Rua João Gualberto Filho, 1402, Bairro Sagrada Família, Belo Horizonte, MG, CEP 31035-570.